The NEW Beüler BU-509TD 3rd generation Time Delay Relay now has many features installers have been asking for, with an easy access top-of-unit waterproof 340 degree adjustable potentiometer and the addition of normally closed relay contacts.
The new low 3V (1K Ohm) trigger voltage gives many new uses, including detecting an LED turning on!
Great safety item by leaving lights on after taking key out of ignition!
Adjustable ON time from 2 sec. to 3 min. before turning OFF
New easy to adjust top of unit potentiometer
Internal Green LED indicated when unit is On
Now with SPDT (87 and 87a) relay contacts
Can also act like a low voltage relay
Activates on as low as 1 volt
Power 12VDC, 20/30 Amp contacts
Replaces Hella 996152131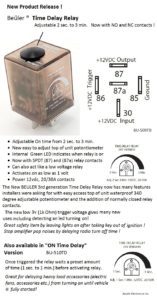 ORDERING
BU509TD – Adjustable time delay before turning OFF
BU510TD – Adjustable time delay before turning ON