Rugged Windows Tablets and Handheld PCs
Our rugged tablet and handheld PCs are made to endure the abuses of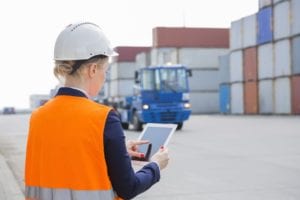 everyday on-the-job use. Rugged tablets with Windows are designed to withstand more challenges than their consumer-grade counterparts, with a  much longer lifecycle. They can take drops, spills, bumps, and wide temperature ranges. Practical features such as a carrying handle, removable keyboards, hot-swappable batteries, anti-scratch glass, and rugged MIL-STD-810G ratings bring new usage options for rugged environments.
Rugged Windows Tablets with a Wide Variety of I/Os
A variety of inputs and outputs designed to connect to equipment or transfer data, and multiple wireless connectivity options bring the adaptability needed to match an ever-changing digital environment. Many of our tablets have cameras, NFC/RFID readers, USB ports, GPS and hot-swappable batteries for uninterrupted use. In today's industrial culture, rugged tablet PCs are key pieces of equipment at worksites. As such, many of our tablets come with mounting solutions, including vehicle mounts to be used in heavy-duty machines or vehicles.
Showing all 11 results